How to Deal with Data Overload The Gorilla Guide® To… Navigating Churning Data, Analytics, and AI/ML
Artificial intelligence (AI) and machine learning (ML) are enabling the massive scaling of services that were, until recently, performed by humans. Analytics are helping decision makers better understand their customers, organization, and market trends.
This survey of the field provides context for understanding the current state of data analytics, and predicts where it's heading in the future.
Highlights include:
How to deal with data overload
The growing need for data engineering
Why you might want to hold onto old data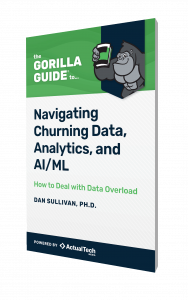 Developed by: ActualTech Media