How To Transform App Development with a DevOps Test Data Management Approach The Gorilla Guide® To… Choosing the Right Data Masking Solution for DevOps Data
As data breaches continue to make headlines, it's imperative for enterprises across all industries to securely manage their sensitive data. Increasingly stringent data security and privacy regulations make the consequences of a breach more dire. The challenge of protecting this data is further exacerbated by the exponential increase in the volume of enterprise data, particularly as data sprawls across environments used for development, testing, analytics, and other non-production use cases.
This guide explains why it's important to mask your non-production data, what to look for in a masking solution, and how to transform application development in your organization with a DevOps test data management (TDM) approach.
Highlights include:
Understanding why you need to mask data
Recognizing what Features to look for in a masking solution and why they're important
How a DevOps TDM approach can help your organization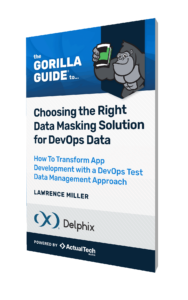 Developed by: ActualTech Media