The Gorilla Guide To…® Maximizing VMware vRealize Operations On-Prem and in the Cloud
vRealize Operations 8.0 is a major leap forward for IT automation. Its new capabilities will enable greater efficiencies in the data center, freeing up staffers for more valuable work.
This Guide provides a comprehensive overview of the newest version of vRealize Operations, including an overview of its abilities, and detailed, step-by-step instructions for installation and configuration. In addition, you'll find out how it's been upgraded from previous versions and how those improvements will benefit any organization.
Highlights include:
Optimizing for cloud and on-premises tasks
Top tips for deployment and configuration
How vRealize Operations 8.0 enables the self-driving data center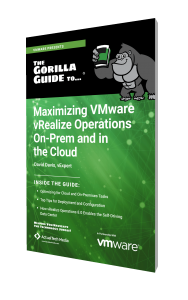 Developed by: ActualTech Media